Buyers nowadays are becoming more mindful when purchasing. According to a Global Pulse Survey last February 2023, consumers seek convenient experiences. In this article, you'll read about customer concerns and how Amazon ads, specifically Product Display Ads (now Sponsored Display,) can help.
Socioeconomic Factors That Influence Consumers' Buying Habits
Having a great product is one thing that actually sells it. But it's more than just having a good item to sellーit's also about understanding all the factors that influence a consumer's spending habits.

These factors may be out of your control, but it doesn't mean you can't do anything about it. Here are the main concerns that affect the consumers' habits and how you can address them with ads:
Concern #1: Inflation. This is a major friction that has interrupted buyers recently. More people are concerned about their finances and now spending less on unnecessary goods and services.
Ad tip: Announcing deals, promoting bundles, and conducting sales events require effective marketing so audiences know your services are worth every penny. Use bold and clear fonts to emphasize how much consumers will save.
Concern #2: Belief system. Some may not be inclined to buy a product due to their belief system, but some are willing to spend more for products that align with their values. Some examples of these includes supporting local farmers by buying local produce, preferring brands with ethical practices, and endorsing businesses that do not test on animals.
Ad Tip: Connect with people by advertising how your business aligns with people's values and advocacies. Use stand-out colors and fonts when highlighting these on your ads. See to it that you actually have proof for your claims; otherwise, this could fall to false or misleading advertising.
Concern #3: "Phygital." It's the combination of physical and digital shopping experience. Thisnew term may soon get traction as customers enjoy returning to brick-and-mortar stores but don't miss the long queue lines.
Self-service and self-checkout technologies lessen the friction by marrying both aspects to provide consumers with more options on how they can go about their shopping experience.
Research shows that many want to browse websites for products they wish to purchase in-store. This is so they could skip the hassle of going to the store and looking for the products. It's also for those who are afraid to buy the wrong sizes or doubt the accuracy of the details listed on the website.
Ad tip: Online product ads thus become valuable tools to attract buyers whether they buy the item in-store or online. Advertising in and out of e-commerce platforms allows for greater reach and brand awareness.
Other socioeconomic factors deter people from purchasing. But with the right ad delivering the right message, brands can effectively reach interested buyers.
There's a plethora of seller tips that can help you thrive–and using Amazon Product Display Ads is one of the best solutions.
What You Need to Know About Amazon Display Ads
Display ads, also known as online ads, combine visual design with a clear call to action (CTA). It's an excellent ad type because it's both cost-effective and measurable. These can provide consumer metrics based on impressions and clicks so you can further assess the performance of your ads. Should you find anything that's not working, you can adjust to lower the bids for it or stop them entirely. Conversely, if something's performing well, then you can adjust the bids to be higher.
Display advertising with Amazon gives you different kinds of digital ads to try. Amazon Ad Products, also known as Ad Solutions, include:
Sponsored Products
Sponsored Display (formerly Product Display Ads)
Sponsored Brands (must be enrolled in Amazon Brand Registry)
Amazon DSP
Video Ads
Audio Ads
Each type has its own set of specifics depending on marketing preferences. The selection's pretty flexible–you can choose from cost per click (CPC) to cost per mille (CPM). You may also prefer bidding on keywords versus bidding on ad space or use static creatives over dynamic ones. Better yet, you can take advantage of being an Amazon seller and have a teaser of your Amazon product detail page in your ad campaign. It's also common for brands to utilize more than one type of advertising model.


Some Amazon sellers find these ads to be overwhelming, and, to some extent, confusing. If you're feeling this way, know that it's not just you! There are thousands of sellers who's also trying to learn the ropes of what these Ad Solutions are. Today, let's focus more on knowing Sponsored Displays and see if it's something you're more geared towards to using for your business.
Sponsored Displays
Sponsored Display advertising sets itself apart from other Amazon ads by targeting audiences. It does not target keywords.
Sponsored Display Ads are displayed both in and out of the Amazon platform and network, compared to Sponsored Products which are concentrated on those areas.
This simply means your sponsored ad can appear outside of Amazon-owned sites (Amazon Store, Twitch, and IMDb). At the same time, your ad can reach to audiences from third-party sites and apps.
A Product Display Ad is shown in sites where your audience frequents. Basically, instead of them actively searching for product keywords, your ads are passively shown to them. It removes the need for them to make a step, bridging the gap between brands and audiences more effectively.
With this in mind, it's essential to define your campaign goals before creating your ads. Here are some things to consider:
What are you trying to achieve? Key performance indicators (KPIs) may include awareness, conversion, and loyalty.
Will you design your own ad creative? If so, be sure to comply with the specs and requirements of an Amazon ad. Amazon also provides auto-generated creative.
How much is your budget? Or daily ad spend limit?
How long will the campaign be?
Will you have different ad groups?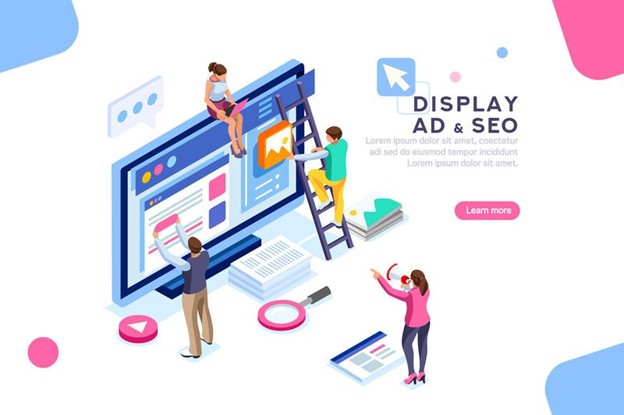 How to use Sponsored Displays
Now that we've differentiated Sponsored Displays campaigns, here's a quick guide to creating one:
Register your account. To access Amazon's ad console, you'd first need to register using your seller or vendor account. After signing in, select "Sponsored Display" as your ad campaign type.
Manage campaign settings. Decide on the following:
○ Products - It's recommended to advertise your best and/or well-performing products.
○ Campaign name - You can add the product title and ASIN for easier tracking when running multiple campaigns.
○ Duration - You can set a start and end time for your campaign, but it's best to let it run for a few weeks for a more comprehensive report.
○ Budget - Set a daily budget limit for your Sponsored Display campaign.
○ Ad group - You can create multiple ads and group them according to those with the same bid and targets.
Select a targeting tactic. You can choose from either Product targeting or Sponsored Display audiences. These can be further refined depending on retail factors like brand and price:
○ Product targeting - This targets people who are actively browsing similar and complementary products as well as related categories.
○ Sponsored Display audiences - This tactic allows you to customize ads and engage and reengage with people in and out of the Amazon Store. Manual tailoring allows you to exclude audiences who may not find your display ad relevant.
Specify the bids. You can choose between a CPC or CPM pricing structure. There are also three optimization strategies to help you with specific goals. Bid recommendations will depend on your allocated budget.
○ Viewable impressions
○ Page visits
○ Conversions
Launch. Launch your campaign and wait.
Monitor ad performance. A combination of traditional metrics (impressions, clicks, return on ad spend [ROAS], etc.) as well as new-to-brand metrics (orders, units, etc.) offer in-depth insights into how much audiences interacted with your ads.
Download reports. Lastly, you can choose between several report types (or download them all) that align with your KPIs and sponsored ads goals.
Recommended optimization tips
Amazon shared five tips to optimize your campaigns over time.
Add more than 10 ASINs and refine your campaign structure over time.
Monitor the campaign budget and adjust accordingly.
Test campaigns across different solutions. Run and compare similar campaigns. Ex: Test ads in Sponsored Products against Sponsored Displays and compare the numbers after. Some ad solutions would work better for certain ASINs than others.
Evaluate performance metrics to set a benchmark for your goals.
Experiment with different targets.
Final Thoughts
It's not easy to catch buyers' attention these days. Many factors can affect both buying power and product consideration. Consumers are more mindful and are actively searching for cost-effective goods and services that align with their advocacies.
Most consumers conduct product research online before purchasing. Digital content and online ads can entice them to try your brand. You can drive sales by utilizing a combination of Amazon advertising strategies and models.
Amazon's Sponsored Display makes for a great ad solution for attracting audiences as it promotes your products within the Amazon network and in relevant third-party sites and apps. Niche market buyers can be met where they are and redirected to product detail pages.
A Sponsored Display ad is customizable according to your budget and ad specs. Having a well-designed creative entices would-be customers. Ads are also trackable and give insights into retail KPIs you need to track business growth.
Amazon always strives to provide the latest technology for sellers, leveraging current trends and inventions to create better services. So it's best to stay up to date with Amazon news.
Subscribe to the SellerBites newsletter and be up to speed with e-commerce headlines, important dates, and seller-specific stories.