Amazon has released different fulfillment models over the years to achieve a balance between satisfied customers and motivated sellers. These models include Fulfilled by Merchant (FBM), Fulfillment by Amazon (FBA), and Seller Fulfilled Prime (SFP), which vary in terms of catering to customers and offering cost-efficient choices for sellers.
As per the current e-commerce news, FBA is the most commonly used and discussed service in the seller community. But did you know there's another 'by Amazon' program that exists, one that's only offered to eligible FBA sellers? It's called Sold by Amazon, or SBA.
But how exactly do FBA and SBA compare?
What is Amazon FBA?
Launched in 2006, FBA is a program designed to make sellers' lives easier. After they send their inventory to fulfillment centers, Amazon will take care of the packaging, logistics, and customer returns.
But its benefits are not just for Amazon merchants. FBA is also available to non-Amazon sellers who want to leverage Amazon's fulfillment network for their business, making it perfect for those who want to sell on multiple platforms.
What is Amazon SBA?
In mid-2019, Amazon launched the invite-only version of SBA. This fulfillment mode grants Amazon control of the pricing for your FBA-enrolled products. This means the company can increase or lower prices to sustain the competition in your niche.
There's a bit of a downside with SBA, as you are required to agree to Amazon's suggested price or minimum gross proceeds (MGP). This is what you'll receive per sale regardless if Amazon sells the product for a lower price than what was agreed upon.
Only sellers enrolled in Brand Registry and who have products enrolled in FBA are eligible. The Amazon SBA program was fully released to sellers by the end of 2019.
Getting Started
FBA
Enrolling products in FBA is simple:
When listing products, choose the FBA option.
Prepare your products for shipping. Make sure you have the corresponding label and product information.
Send your inventory to Amazon fulfillment centers.
Once the items are received, your listings will have a "Fulfilled by Amazon" label, and you can even be granted a Prime Badge.
When an order is made, Amazon packs and ships the order to your buyer. Customer service and returns are also managed by Amazon. From here, you can register for the SBA program and then enroll your product listings.
To check if you have ASINS available for SBA, click "Settings" and then click "Account Info." An option to register for the SBA feature will be visible under "Your Services."
SBA
To start using SBA, do the following:
In Seller Central, choose "Manage Inventory" and find the new "Sold by Amazon" option from the drop-down menu. This will show you all the products you can enroll in the program and the suggested MGP for each.
Choose the products you wish to enroll in SBA.
Your listing is now in Amazon's hands.
You can unenroll at any time should you change your mind.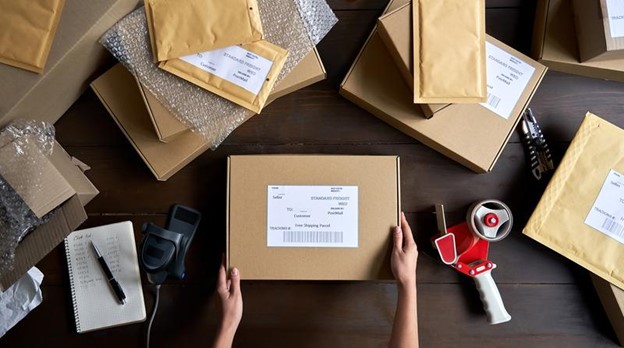 Advantages and Disadvantages
For you to thrive in the e-commerce field, you must know how to balance the pros and cons of marketing, sales, and logistics. So to guide you in choosing a fulfillment option, here's a close comparison of the advantages and disadvantages of FBA and SBA.
FBA
As we mentioned before, FBA is the most popular option. And it's easy to see why judging from its pros and cons.
Pros
Prime eligibility. The biggest pro of using FBA is access to Prime members, who are known to spend more than regular Amazon buyers. Plus, you get to carry a Prime badge—something these members favor.
Free shipping. Prime members enjoy free-shipping and two-day shipping benefits. So, sellers who opt for the FBA service don't have to worry about shouldering the responsibilities of Prime shipping (as opposed to the stringent requirements of other programs like SFP).
Buy box eligibility. FBA sellers have more chances of winning the box that says "Buy now" (instead of "Add to cart"). This makes it easier for customers to buy in a few clicks. Less friction, more conversion.
Customer support. FBA sellers are not bombarded with customer inquiries, product returns, or refund requests. Amazon Customer Service handles all that.
Storage solutions. Amazon FBA addresses your storage woes with warehouses that have specialized features and settings. This is helpful for those with sensitive inventory like chocolates and other "meltables."
Scalability. It's easier to scale up a business when there's little concern about warehouse maintenance and overhead cost. The distribution of Amazon warehouses allows FBA sellers to sell to anyone, anywhere around the world.
Cons
High costs. Unfortunately, FBA can get costly, especially with add-ons. So this option is not for those unwilling to invest substantial capital.
Another factor is the tax laws that may differ from state to state and country to country. Fulfillment centers are subject to the policies of their given area. If you want to estimate FBA costs, you can use the Amazon FBA Calculator.
Strict standards. Some products are NOT eligible for FBA. And for the acceptable ones, they must follow strict protocols imposed by fulfillment centers. For instance, shipments must have proper documentation and be organized according to size, product type, and weight. Labels must be affixed correctly and visibly. Even the packing materials used are taken into consideration. Else, the inventory may be denied acceptance at the fulfillment centers. After all, it is Amazon's name on the line.
Lack of control. Sellers cannot customize user experience due to the guidelines. Aside from that, they have no control over what Amazon deems as "unsellable" inventory.
Increased returns. Amazon is customer-centric and allows for returnless refunds and free returns for eligible FBA orders. Although sellers may have a no-return policy for used merchandise, Amazon has a different set of rules that states otherwise. That being the case, sellers see high return rates for products enrolled in FBA versus those that are not.
Storage limits. FBA sellers are subject to storage limits in terms of space and duration. Amazon doesn't like inventory sitting too long and will charge long-term storage fees. Removal and disposal fees for "unsellable" or unwanted inventory will also be charged to the seller.
Overstocking or understocking also affects seller account health. So, aside from the extra bills, a seller's metrics can also plummet.
SBA
SBA is just one step ahead of FBA and carries the same pros and cons, with just a few extras.
Pros
Taxes. Given that Amazon is listed as the seller, the company covers the sales tax. A tax exemption certificate will be issued to the seller for SBA orders.
Competitive prices. Amazon sets the most competitive prices for SBA merchandise, enticing more buyers.
Cons
Lower margins per sale. The MGP may be lower than your regular price. This is understandable as Amazon will most likely undercut to attract prospective buyers. On the low chance the product is sold for a higher price, you'd still receive the agreed-upon MGP.
Final Thoughts
As you can gather, the benefits of the Sold by Amazon program are very few compared to its major disadvantage. If you are interested in SBA, you might want to consider becoming an Amazon vendor instead, as this is a similar idea where Amazon acts as the "seller."
So, in conclusion, FBA is the better choice.
But who knows, Amazon may announce new programs, policy updates, or even partnerships. More selling programs might be around the corner. So, it's best to stay in the loop. You can do so if you subscribe to SellerBites. We cater to entrepreneurs on the go by feeding them convenient, bite-sized content.
Subscribe now to be a better FBA seller in just 5 minutes!