You probably heard the term "stocks" on several occasions. You might also have an idea of what stocks are. But how often do you hear something about Amazon Stocks News? To understand this, let's discuss some related concepts and terms first.
What are stocks and stock markets?
Stocks are defined as shares in the ownership of a company. They're a type of security equity that allows stockholders to lay claim on the assets and revenue of a business. For example, if you purchase Amazon stocks, you are considered an Amazon stockholder (or shareholder) and entitled to a portion of Amazon earnings known as dividends.
The stock market (or stock exchange) is the platform where you can buy and sell these equities via formal standards or over-the-counter trading. Regardless of the avenue, exchanges are regulated by the respective Securities Commissions. For the United States of America, this role goes to the U.S. Securities and Exchange Commission (SEC).
What do stock markets matter?
Financial markets fuel a nation by making sure money flows purposefully and efficiently. It helps fund businesses, provides finances to the government for public services, and helps lower the costs of goods.
Stock markets can be indicators of the state of an economy because they're typically aligned with economic performance. By knowing which stocks are rising, you can gauge which companies are profitable and worth investing in.
As sellers and business owners, stocks may indirectly affect you. For example, Big Tech, the industry group Amazon belongs to, was severely affected by inflation rates and the looming threat of a recession. The quarterly Amazon business news for shareholders reported stagnant growth, resulting in cost-cutting decisions. Recently, this was in the form of mass employee layoffs.
Like a domino effect, fewer employees mean fewer people to address your Amazon business concerns. From tech support and seller help to warehouse facilitators, a workforce decrease will eventually affect options on how you market your products and services.
How to stay informed of stock news?
With this in mind, you should be prudent and informed of what's happening on Wall Street. Main news outlets will cover the rise and fall of major stocks in their Business sections. But for on-the-go readings and real-time updates, you should befriend websites and newsletters. You can also contact agencies and brokers if you plan to be a serious investor.
Most websites have newsletters and vice versa. While websites may provide a fuller experience, newsletters tend to have a more personal and targeted approach. You can choose how to be informed regardless if you're concerned with real-time stock value and investments or just the financial status of Amazon and tech companies.
Investopedia
Investopedia is a comprehensive site providing information about the U.S. stock exchange. You get real-time updates on stock movement, six types of investor news (from Personal Finance News to Company News), and an education tab to help you with the basics.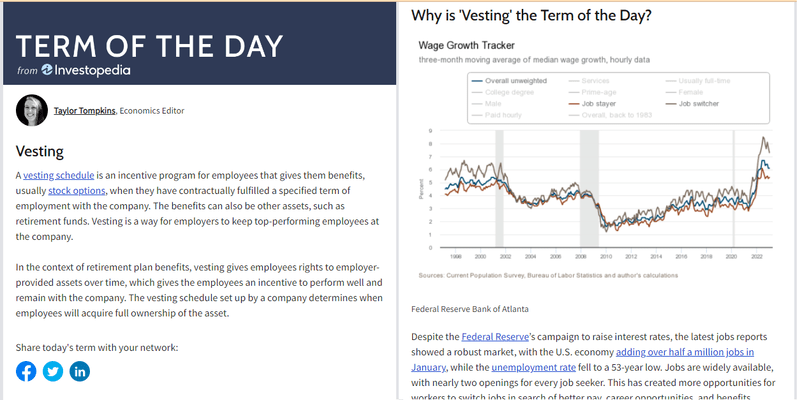 The name brings a sense of nostalgia to the encyclopedias during pre-Google days. Plus, it's a site that lives up to expectations. It even has a Stock Market Simulator that allows you to try your hand at stock trading without spending real money!
Like its namesake, it delivers a daily newsletter in an encyclopedia format. It also features the term of the day and tells why that term matters. It may even drop history lessons here and there, providing subscribers with an informative experience.
The Motley Fool
The name sounds foolish, but you mustn't be fooled (double pun)! The Motley Fool began in the UK and eventually expanded their "Foolish Investing" approach to interested investors in the U.S., Canada, and Australia. Other than reporting, the Fool analyzes dips and assets and shares their top stock choices. They also have a daily newsletter that keeps you updated with the headlines.
However, not all of their financial advice is free. They offer premium membership so that you can access their in-depth investment advice.
Seeking Alpha
Seeking Alpha is an investing community—the largest in the world, according to their pitch. Judging by their breadth of coverage, this description is accurate. Seeking Alpha is made by investors for investors. You can see it clearly in their daily newsletter, which updates subscribers about the biggest headlines. Their website is also loaded with stats, including real-time stock updates, upcoming expiry dates (exdates), and trending analysis.
When an Amazon Stock Split announcement is released, Seeking Alpha would have several analysts offering their insights, bulleted key points, and an email already in your inbox.
But like all good things, they come with a price. You only get one free article to read per month. You can access all the juicy content, including their top picks, for a price.
Investor.gov
Yup, government agencies have websites too. And, If we're taking authoritative sources, it doesn't get any more official than the website of the U.S. SEC. Aside from regulating national stock trading, they present all reports to the public via their EDGAR Database.
All publicly traded companies like Amazon are legally required to file different SEC forms that inform investors and the general public of their financial state. If you want to know the details of Amazon's cash flow, this would be one way to access it.
Amazon also shares this information on its official site under the Investor Relations tab. Feel free to use the search bar to look for a specific press release.
SellerBites
If you prefer a more actionable strategy for investing and handling finances for your business, SellerBites (SB) might be the best option for you. SB is a newsletter aggregating e-commerce news and related content and presenting them in an easy-to-digest format. Beyond stock announcements and Amazon Seller news, SB has the Seller Refresher and Cash Corner sections that offer seller-specific calls to action (CTAs) and strategies. Although not stock-specific, SB covers major Amazon news related to Amazon stocks that may impact sellers.
Final Thoughts
Let's have a recap, shall we? First, stocks are shares in a company that a stockholder can buy to own a portion of a company's earnings. If you decide to become a stockholder, you can buy stocks in the stock market (a.k.a. stock exchange). Just make sure you're informed of the regulations imposed by the U.S. SEC, which is the authority that regulates these markets.
Second, stock markets influence a nation's economy. For instance, they can directly affect businesses by becoming a fund source or indirectly impact them by reflecting losses that will lead to cost-cutting decisions.
Third, Amazon is a publicly traded company. This means it's legally required to report its quarterly earnings, losses, and general financial status to the SEC. In the past year, the dip in Amazon stock prices coincided with its decision to lay off employees. If you plan to buy Amazon stocks, then pay attention to the next part.
Because lastly, as an aspiring investor, you should stay informed about relevant stock news by reading the business sections of major news publications or newsletters. Depending on what aspect of the stock market you prefer, a newsletter may give more personalized and helpful content. But if you want a more personal approach, consider talking to professionals, such as agencies and stock brokers.
In the meantime, you can start by staying on top of Amazon seller news and articles through SellerBites. This will equip you with crucial information about Amazon and help you become a better FBA Seller in just 5 minutes. Just between you and us, well-informed sellers are more likely to become wise investors.