ECOMMERCE NEWS
For decades, China has been manufacturing items for brands all over the world. But now, Chinese companies have set their eyes on a new goal: enter the ecommerce space not as suppliers but as direct sellers. In other words—as Amazon's competitors.
🌐 Here's MarketPlace Pulse's overview of China's ecommerce journey so you have a clue on how they've participated in the market over the years:
⚙️ Made in China: U.S. brands have been outsourcing manufacturing from platforms like Alibaba and AliExpress since the boom of the ecommerce industry. Many Amazon sellers greatly enjoyed the wholesale deals offered by these enterprises.
💵 Sold by China: After using Amazon as their ecommerce channel, Chinese retailers now make up 63% of the company's 3P sellers. Instead of buying from sellers who import from China, customers directly purchase from China-based stores on the platform.
👗 Marketed by China: By the end of 2022, Chinese retailers began marketing and selling outside Amazon. Fast fashion powerhouse Shein became an industry frontrunner, expecting an $80 billion gross merchandise volume by 2025. Temu, a subsidiary of the Chinese ecommerce giant Pinduoduo, will likely follow in this footstep despite being less than a year old.
The years of exposure to ecommerce trends have paid off for China. Sooner or later, it won't be surprising to see aggressive marketing schemes from its marketplaces.
🎫 What's in it for a seller like you?
You may think this has nothing much to do with you as a seller. But you can actually learn a thing or two from China's systematic growth. For instance, you now know that patience is not just a business virtue—it could be your ticket to expansion and success.

HOT TOPIC
Should you sell on Amazon or eBay this 2023?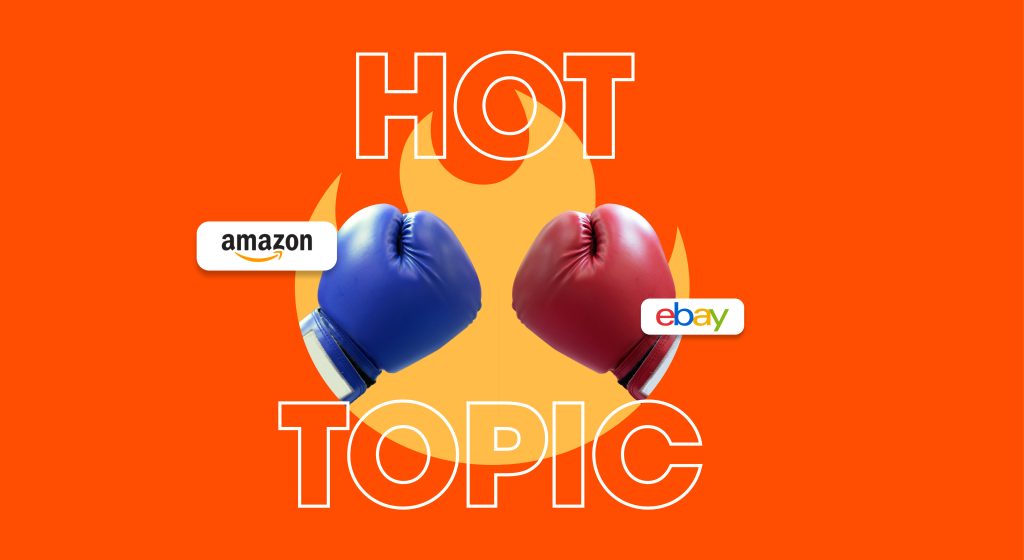 If you want to succeed as an online seller, you can't leave things to luck. Instead, you need to manage your resources wisely AND choose the right platform.
To help you decide where to pursue your ecommerce success, Jungle Scout compared two of the leading marketplaces today: Amazon and eBay.
💵 Selling costs. This should be one of your top considerations when choosing a selling platform.
Amazon: You'll pay subscription, referral, fulfillment, refund administration, storage, and fixed closing (for individual selling plans) fees.
eBay: You'll pay insertion, final value, payments processing, and optional listing upgrade fees.
🛍️ Products. Except for illegal items (obvi! 🙄), you can sell pretty much anything on both platforms. But let's look at it from the buyers' perspective:
Amazon: Customers prefer this when looking for new products and used books. This makes sense, as the company started as an online bookseller.
eBay: This platform is a bay for buyers searching for second-hand items.
🚚 Fulfillment method. This is a stressful and very crucial part of any online business, so you must carefully plan on how to ship orders.
Amazon: You can fulfill orders yourself (Fulfillment by Merchant) or let Amazon do it for you (Fulfillment by Amazon).
eBay: You can pack and ship orders yourself or have a third-party fulfillment center handle them for you.
📦 Return policy. Returns are part of online selling. The key is to balance customer satisfaction and unexpected losses due to refunds.
Amazon: Customers can get full refunds through the A-Z Guarantee.
eBay: Sellers can disable refund requests by ticking the "No Returns" box.
🛒 The best selling platform is …
… the one that meets your business vision, mission, and goals.
So, make sure you sort those out before you pick a platform. But if you have the resources, why not consider selling on both? Putting all your eggs in one basket may not be your safest option this year.

BITES OF THE WEEK

AMAZON NEWS
Predict how your sales will go and lessen business risks with Amazon Forecast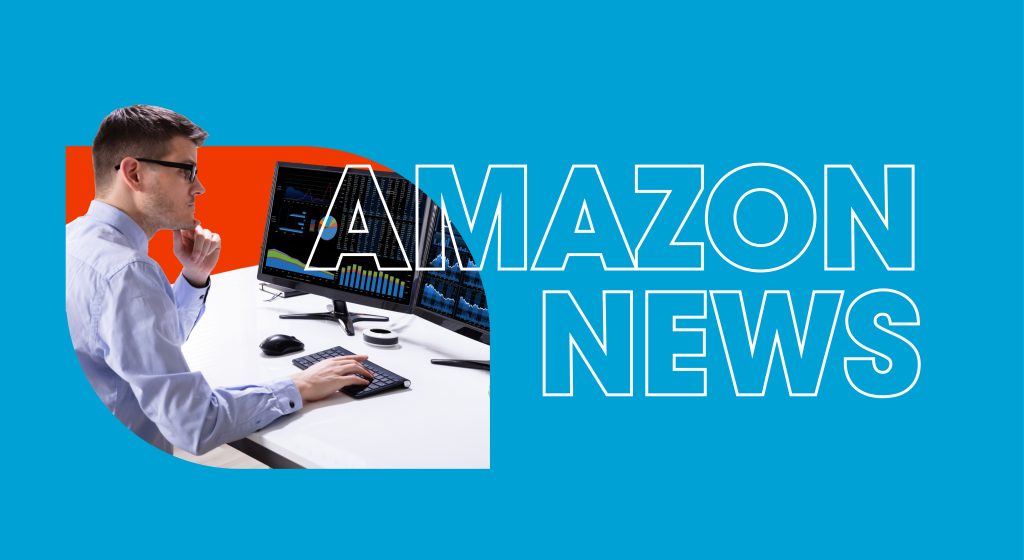 Amazon Forecast can predict the future but it's not a magic of some sort一it's still based on facts.
It uses historical data to assess and predict what's most likely to happen. This makes forecasting tools, while not 100%, invaluable to sales and inventory management.
Amazon recently started testing its new demand forecast tool as seen in an announcement from Ed Rosenberg on his LinkedIn. It has two prediction levels.
Mean: represented by the green line, this is the expected weekly customer demand.
Optimistic: represented by the dotted line, this is the expected demand for your product 90% of the time.
Ankita from SellerApp did a video tutorial on how to access the tool from Seller Central for those who want a closer look. She also explained how you can use the tool so you don't go over or under inventory levels.
At the moment, it's only accessible to those with products that have high-velocity sales.
What other Amazon features and tools are you excited about?

ACTIONABLE ADVICE
How to get your products featured on Amazon Inspire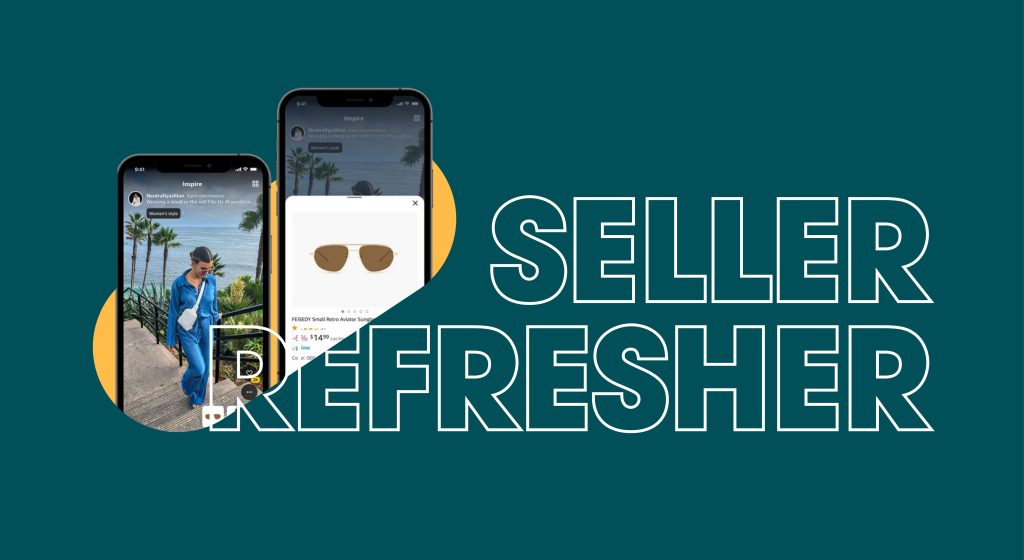 Imagine scrolling through short-form video content and shopping at the same time. Very convenient, right?
The retail giant recently launched Amazon Inspire, a new feature dubbed as the TikTok of ecommerce, as originally written by EcomEngine.
The idea is to inspire (more like urge) people to buy through product recommendations based on the following:
Interests they select when they open the Inspire app
Products they like when they browse their feeds
🛍️ How can you put your products on Amazon Inspire?
You can't exactly volunteer your products (it's sad, we know 🥹). But there are things you can do to become an inspiration:
Enroll your brand in Brand Registry to create Amazon Posts for free. This is your first step to being showcased on Amazon Inspire.
Use high-quality images and videos in your posts. Aim for a professional-looking curation (rather than a fancy one).
Maintain a competitive product performance. The higher your sales, views, and reviews, the more chances you have of being selected for Amazon Inspire.
With this new gimmick, you can feel closer than ever to customers. It's also an avenue for a new marketing standard—one you can look forward to—to inspire profitability. 💰